In the event that you need to reset your router to its factory defaults, there are a few steps you'll need to take in order to make sure the process goes as smoothly as possible. This guide will outline those steps for you and provide some additional information on why resetting a router can be helpful. Keep reading for all the details!
Benefits of Resetting a Router
Help Fix Certain Connectivity Issues
One of the benefits of resetting a router to its factory defaults is that it can help fix certain connectivity issues. If your router is constantly disconnecting or experiencing other issues, a reset may be all that's needed to get things back on track.
Improve Your Router's Performance
Another benefit is that it can help improve your router's performance. Over time, as more devices are connected to your network and more data is passed through the router, it can start to slow down. A reset can clear out any old or unnecessary data and help the router run more efficiently.

Help Keep Your Network More Secure
Finally, resetting your router can also help keep your network more secure. As new security threats emerge, it's important to make sure that your router's firmware is up to date. If it's been awhile since you've last reset your router, there's a good chance that its security features are out of date. By resetting the router, you can ensure that all the latest security patches are installed and that your network is as safe as possible.
Different Ways to Reset a Router
There are a few different ways that you can reset your router.
Simply Press the Reset Button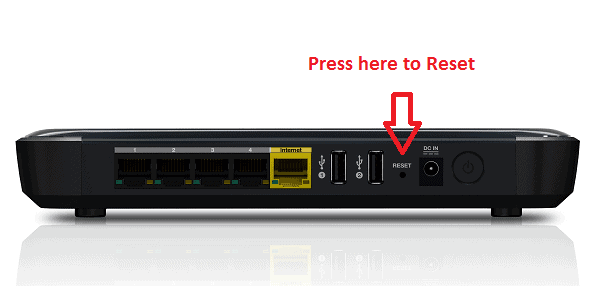 The most common way is to simply press the reset button on the back of the router. This will usually reset the router to its factory default settings.

The Router's Web-Based Interface
If you want to be more specific about what settings you want to change, you can access the router's web-based interface and make changes from there. You'll need to know the router's IP address and login credentials in order to do this. If your router allows to do a factory reset from the web-based settings, you can also do that from here.
A Firmware Upgrade Utility
Alternatively, you can use a special piece of software called a firmware upgrade utility to reset your router. This is usually only necessary if you're having trouble accessing the router's web-based interface or if you want to restore the router to its original factory settings.
Whichever method you choose, make sure that you know the router's IP address and login credentials before you start. This will help you avoid any potential problems that could occur during the reset process.

Conclusion
If you can't seem to fix your router's persistent problems, then a reset may be the best course of action. Just remember to back up your settings first, as a reset will erase all custom configurations. Whether you do it through the web interface or by physically pressing the reset button, just be sure to give yourself enough time to get everything set up again before you need to use your network. With a little patience and some trial and error, you should be able to get everything working properly once more. Thanks for reading!